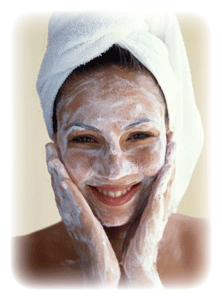 Importance of Cleansing
Thorough cleansing is one of the most vital steps of total skin care. When meticulously and consistently performed, deep cleansing is the first and most significant step in any skin care regimen. It is recommended that deep cleansing be done twice per day, in the morning and before retiring. This assures removal of surface impurities, traces of make-up, and excessive oiliness. Proper cleansing will enhance the skin's ability to breathe.

How to Cleanse
Wet face with lukewarm water. Apply a small amount of facial cleanser and with your fingertips gently rub cleanser in upward circular movements. Always use light strokes as facial tissue is delicate. One of the biggest mistakes people can make with their skin is to over-wash (too much washing or harsh touch). Rinse face completely and pat dry. Follow with the use of toner and/or moisturizer.

Using the Right Cleanser
Skin must maintain an acid balance. While cleansing removes impurities it disturbs this balance. Soaps regularly used for the body are not appropriate for facial tissue. To ensure that balance is maintained it is recommended to use cleansers that are formulated specifically for the face. Using a toner after washing your face is also suggested as it will complete the cleansing process.

Types of Cleansers
Milk Cleanser - The cosmetic field marks milks as fluid emulsions with milky consistency and appearance. Cleansing milks are an oil in water emulsion that is water-soluble. These types of cleansers are effective and recommended for most skin types. They often include ingredients such as Collagen and Hyaluronic Acid.

Gel Cleanser - These cleansers have a gel base. The advantage of this type of cleanser is that water-soluble products such as plant extracts and vitamins are used more effectively. With the addition of a small amount of alcohol, cleansing and antiseptic properties are enhanced. These type of cleansers are recommended for oily, acne and problem skin since they often have a tendency towards drying.