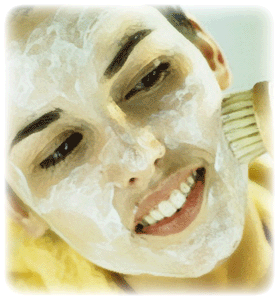 Importance of Exfoliation
Exfoliation of the skin is an important step in cleansing the face and body. It can remove the dead skin cells that accumulate on the top layer of the epidermis. These dead cells build up on the skin and can block pores, trapping the oils inside. Exfoliation will remove this layer and allow the skin to breathe.
Types of Exfoliators
Mechanical Peelings - These types of exfoliators can be comprised of hard ground botanical or natural products, such as apricot seed, micronized silicate or hardened wax crystals. These are usually in a cream base. This is the most common type of product for home use. It is called a 'one phase peeling' because it is directly applied to wet skin and easily rinsed away. The 'mechanical' term is used since your fingertips do the work in scrubbing the skin. There are two types of mechanical peelings:
Peelings that dry on the skin - The amount of drying time influences the peeling effect. The longer the drying time, the better the exfoliation.


Peelings which do not need to dry on the skin - These peelings are workable immediately after application and remain in a 'wet' state.
Enzyme Peelings - These peelings contain natural enzymes that have an exfoliation effect on the skin. Some ingredient examples are bromelain, pancreas, almond bran, and orange oil. These products are extremely beneficial for those with mature, problem, and oily/unclean skin types. Dead or mature cells are removed, pigmentation spots and discolorations can become lightened, and overall appearance is enhanced with this type of treatment.
How to Exfoliate
In general most people will only need to exfoliate their skin once to twice each week. Since facial tissue is delicate, it is not recommended that exfoliation creams, washcloths, or other harsh abrasives be used on a daily basis. Over-washing and too much exfoliation can damage the skin causing redness, irritation, peeling, and dryness.
You should choose the right kind of exfoliator for your skin type. Gently work the exfoliation cream into a moistened face in upward circular movements. Rinse thoroughly with lukewarm water and follow with the use of a Toner or continue on with a facial treatment.