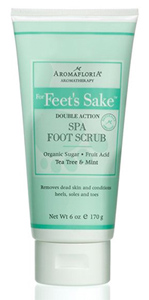 For Feet's Sake line is made from organic essential oils of Tea Tree and Spearmint. Our natural spa pedicure collection is guaranteed to soothe and condition the most tired feet and legs.

Gently exfoliate, moisturize and condition while you massage away the feeling of heavy legs and tired feet. Evens out skin tone - great before self tanning, softens skin and reduces calluses.

How to Use: Apply a tablespoon of Scrub over the top and bottom of each foot. Massage feet and legs in a circular motion for 2 minutes. Rinse under warm water and towel dry.
Size: 6 oz
PRICE: $13.99