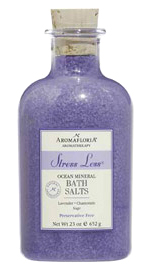 Stress Less features lavender, chamomile and sage to ease anxiety and nervous tension as well as relieve physical strain. These natural, preservative-free products rejuvenate and nourish skin while helping to restore balance with aromatherapy.
Immerse yourself in a bath of soothing, calming aromas to relieve the physical and emotional strain of a stressful day.

How to Use: Add ˝ cup to running bath water (temp. 98F – 102F). Soak for 20 minutes to renew the spirit.
Size: 23 oz
PRICE: $17.99