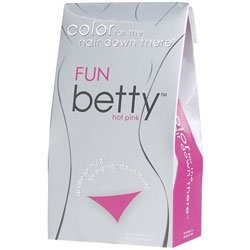 Introducing the first safe color specially formulated for the hair down there. Colors naturally, covers gray, and enhances to match your glorious locks above. Whether you're blonde (be a true blonde now!), radiant auburn, brunette, or black, our easy-to-use, no-drip formula gives you the perfect finishing touch. From now on, when you highlight or color your hair, don't forget your betty color for the hair down there.

Betty products DO NOT contain p-phenylenediamine 'PPD,' an ingredient that can irritate and is often used in eyebrow and hair color dyes. Many customers who are allergic to brow dyes are able to use betty products on their facial hair without irritation. Betty products do not contain ammonia. We do not do any animal testing!

Betty products are specially formulated to be gentle with such natural ingredients as elder flower, cherry bark, chamomile, comfrey, black walnut, aloe, hops, and rosemary.

Each betty box contains enough product for 1-3 applications! Includes tray, application wand, mixing spatula, gloves and instructions. Color will not rub off on clothing or during physical activity. Safe for women and men.


FUN BETTY HOT PINK
Hot pink means play. Adventure down below! Celebrate! Fun Betty is a hot pink party in a box! Fun Betty color for the hair down there. Go girl, it's your birthday! Or your anniversary or your wedding or his birthday! It's the perfect gift. Follow the easy directions for safe color. Natural-looking. No mess. No drip. Use it every time you want candy! Fun is where you find it! Get your betty ready!
PRICE: $16.99