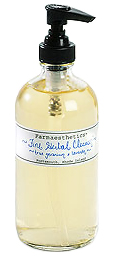 Gentle & nourishing, this results-oriented formula is ideal for a range of skin types from mature to actinic to sensitive. Raising the bar on sustainable skincare, this pristine product is made with true geranium (different from the scented plant used for ornamentation) combined with lavender & witch hazel. It has astringent, antiseptic properties, useful in balancing the production of sebum (the skinís own natural moisturizer). Known for its truthfulness in all aspects of labeling & advertising, this product keeps the Farmaesthetics' brand promise by balancing & restoring skin to its optimum condition for a clear healthy complexion without using any synthetic ingredients whatsoever.

APPLICATIONS & BENEFITS:
Washes away impurities and excess oil, without ever changing the skinís natural ph balance or washing away the wanted outer layer of natural oils
Created for use on the face, but is appropriate for body, bath & baby!
Naturally fragrant and antiseptic
Non-irritating, as it does not contain synthetic surfactants or harsh cleansing agents, soaps or perfumes
Excellent for all skin types, from oily to dry, or patchy complexions
Serves to settle the kind of red, inflamed skin conditions that can accompany hormonal imbalances in adults & teens alike, ie. acne, rosacea
Farmaesthetics products are 100% natural & contain certified organic ingredients as indicated. Certified hypo-allergenic, non-irritating & dermatologically tested, with a certified with a 2 year shelf life & no animal testing.
8 oz
$41.99
33.8 oz
$157.99