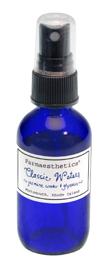 Reminiscent of the toiletries of the 1930s, Farmaesthetics Classic Waters imparts a dewey finish to the complexion, and a lilt of natural fragrance to the skin, all while acting as a purifying antiseptic mist to keep skin clean, hydrated & feeling fresh...all day long.
APPLICATIONS & BENEFITS:
Antiseptic witch hazel combined with essential oils, will keep skin clean all day long and this essential for healthy skin
Protective Barrier to moisture loss, glycerin is a humectant, meaning it actually "grabs" moisture from the air & binds it to the skin, locking moisture in. Re-hydration periodically throughout the day is essential to keeping tissue hydrated on a deeper level & preventing moisture loss
Freshening Spritz to apply to the face & body. Allow the fine mist to settle on the skin leaving the complexion looking young & dewy
Light, Natural Fragrance to lightly scent the skin as you rehydrate during travel or throughout the day
Soothes & Softens: witch hazel is also a softening agent for skin that is inflamed or irritated from heat or extreme climate or environmental conditions
Will beautifully Set Makeup or brighten the face throughout the day
Choose from 4 unique blends:
JASMINE WATER & GLYCERIN
Fragrant Jasmine flowers cling to summer nights in the south, lightly "perfuming" the air and its sensual, unmistakably elegant scent is captured in this classic, hydrating mist.
GRAPEFRUIT WATER & GLYCERIN
Grapefruit will brighten a dull complexion, help enliven the mind and ease fatigue. It is known as a toning agent and purifier of congested, oily or acne prone skin.
CHAMOMILE WATER & GLYCERIN
Calming chamomile soothes skin when used as a pick-me-up anytime to freshen the face, set makeup or add a supple, dewy finish to the skin.
ROSEWATER & GLYCERIN
A classic treatment potion that beautifies the complexion, rosewater has been used for centuries due to its soothing and anti-aging properties.
Farmaesthetics products are 100% natural & contain certified organic ingredients as indicated. Certified hypo-allergenic, non-irritating & dermatologically tested, with a certified with a 2 year shelf life & no animal testing.
Size: 2 oz bottle
PRICE: $25.99