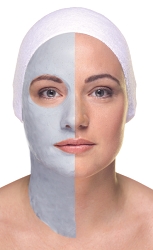 Convenient peel-off masks come in one-treatment powder packets. Just mix with water to create a luxurious, creamy paste. Each professional mask offers unique properties for a variety of facial needs.
Choose from 10 different types:
BILBERRY MASK
Perfect for delicate or sensitive skin, this mask increases circulation, rejuvenates sluggish skin and helps protect against free-radical damage.
DEAD SEA MASK
A cooling therapy that removes impurities, heals blemishes and brightens dull skin with the properties of tea tree and lemon essential oils. For oily to problem skin.
GINSENG & SPIRULINA MASK
Stimulates skin metabolism and helps renew skin cells. Contains alginate, ginseng, spirulina and Vitamin C. Anti-Aging treatment for normal to mature skin types.
HIBISCUS & ARNICA MASK
Helps the epidermis renew itself and makes the complexion luminous. Has soothing, protective action and anti-inflammatory properties. Also contains bentonite along with chamomile essential oil and petals. For all skin types.
LAVENDER & ROSEMARY MASK
A balancing mask with antioxidant properties and antimicrobial effects. Also contains alginate and olive oil to nourish the epidermis. For all skin types.
OLIVE OIL & LEAF MASK
Wonderful for age control, this sensory treatment contains olive oil to improve skin elasticity and olive leaf extract for stimulation and antioxidant properties. For normal, dry and mature skin.
PAPAYA MASK
Rejuvenates and regenerate the skin. Made with papain, a fruit enzyme derived from papayas that helps eliminate dead skin cells. For all skin types.
RELAX & PURIFY MASK
Gently purify the skin with eugenol, a bactericide made from clove oil. Ideal for normal to oily skin.
SEAWATER & ALGINATE MASK
A gellifying mask that contains marine trace elements. These ingredients are essential for supporting various metabolic functions during the renewing process of skin cells and healing of the epidermis. An anti-aging treatment for normal to mature skin types.
VITAMIN C MASK
Idea for use with anti-aging treatments. Made with Vitamin C from the exotic acerola fruit. Helps synthesize collagen and protect against free-radical damage. For normal to mature skin.
Size: 1 mask treatment
PRICE: $7.99