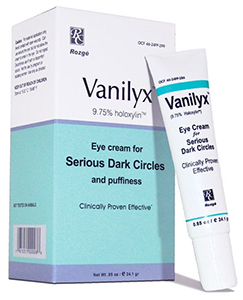 Vanilyx is a topical cream that is specifically formulated to lessen the appearance of serious dark circles and puffiness. Vanilyx is not a cover up or make up, but is intended to improve and heal the delicate eye area.

Dark circles are formed under the eyes when the microcirculation process is slowed and the amount of oxygenated blood in circulation is reduced. The thin vascular areas of skin under the eyes are susceptible to the discoloration caused by this process. Vanilyx Eye Cream improves the microcirculation around the eyes and drastically reduces dark circles and any puffiness that may exist. Designed for those with chronic eye circles, Vanilyx has been clinically proven to be effective in the disappearance and reappearance of these blemishes. It can also be used in combination with your regular moisturizer and make-up.
Instructions: Use twice a day on clean, dry skin. Apply a small amount to the desired area and gently rub in a circular motion until fully absorbed. Use sparingly, Vanilyx is highly concentrated. Do not exceed 3 applications in a 24 hour period.
Size: 0.85 oz
PRICE: $41.99