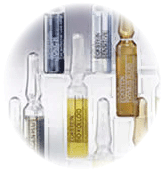 Ampoules are typically small, glass containers that are filled with a concentration of highly active ingredients. Ampoules usually contain botanical extracts, vitamins, and enzymes in various combinations and do not have any preservatives or chemicals due to the airtight packaging.
There are ampoules designed to address every skin type and deficiency. Ampoules can have remarkable effects on various skin conditions, irritations, hyper-pigmentation, as well as, aging. Visible results are achieved within a short time after application. Combining ampoules and masks together in a treatment enhances the results.
Types of Ampoules
There are several types of ampoules:
Gel - Botanical extractives in a light gel formula, which allows for easier absorption into the skin. Best suited for the facial tissues and reach maximum effectiveness when applied with steam and can also be used in conjunction with a mask.

Oil - A thicker ampoule in an oil formula which may either be massaged in with or without steam and does not need to be rinsed off. This type is more like a serum that can be followed with a moisturizer or worn simply as a moisturizer.
How to Use an Ampoule
After cleansing, the ampoule should be applied to the skin with gentle massage with steam. This may done with a facial steam machine or steam towel (a moist hot compress; apply a steam towel to the face for a few minutes prior to using the ampoule and another after application). While the ampoule is still moist on the skin, you can apply a mask and complete a facial treatment. Or you may leave on the skin to be washed off after 10 - 15 minutes. Follow with the use of a moisturizer.