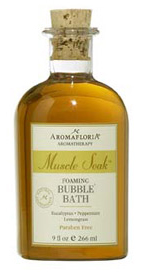 Experience relief at home with the complete Muscle Soak line of bath and body products. Eucalyptus, Peppermint and Lemongrass soothe sore muscles, aches and pains, while cleansing and toning the skin. As an added benefit they also help fight exhaustion and depression.
Submerge into a steaming hot bath empowered by uplifting, restoring aromas. Emerge revitalized and refreshed with a new sense of well-being.

How to Use: Dispense under running bath water (temp. 98F – 102F). Soak for 20 minutes.
Size: 9 oz
PRICE: $14.50