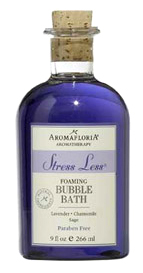 Stress Less features lavender, chamomile and sage to ease anxiety and nervous tension as well as relieve physical strain. These natural, preservative-free products rejuvenate and nourish skin while helping to restore balance with aromatherapy.
Pour tranquility back into your body and mind through alleviating baths that soak away anxiety and pressure.

How to Use: Dispense under running bath water (temp. 98F – 102F). Soak for 20 minutes to calm frazzled nerves.
Size: 9 oz
PRICE: $14.50