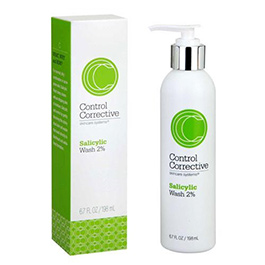 Control Corrective Salicylic Wash is an excellent exfoliating gel cleanser with 2% salicylic acid and essential oils. This wonderful wash helps balance the skin, reduce and control oily zones as well as reduce the buildup of dead skin cells that can cause breakouts. Salicylic acid is particularly effective at exfoliating the lower dermal skin layers without causing harm. May be used on the face and body.
Instructions:
Apply a small amount to pre-moistened fingers. Lightly massage to affected areas. Rinse with tepid water. May be used once or twice daily.
Attention! Due to manufacturer's policy change we are no longer able to offer the individual sales of certain product sizes. 6.7 oz bottles are now only sold in packs of 3. Sorry for the inconvenience.
Sample
$1.10
6.7 oz. (pack of 3)
$99.00
18 oz.
Professional Size
$58.99