Highly effective and soothing ointment for blemishes and skin impurities.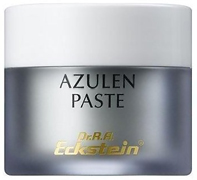 A highly concentrated ointment for the spot treatment of acne. It accelerates healing and calms the affected area by reducing redness and swelling after the removal of impurities. Promotes a scar-free regeneration of the skin. Contains Zinc Oxide, Azulene, Chamomile Oil, Vitamins B1 + B2 + B6 and Vitamin A + E. At night, after cleansing apply locally to blemishes.
For the day, use or Dr. Eckstein Azulen Paste Tinted or Dr. Eckstein Azulen Powder as healing concealers.
Instructions: After cleansing and toning, gently apply a dab of paste to the affected area with a cotton swab. This will create a mask on the blemish or irritation. Best used as a night treatment.
Size: 0.5 oz

PRICE: $18.99