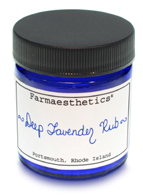 Our herbal ode to "Vick's Vapo Rub", is a deep comfort rub that utilizes the heat-producing essential oils of ginger, rosemary & eucalyptus, to relax & release upper respiratory tightness due to colds, allergies, stress or asthma. An excellent lineament for stiff or strained muscles due to over-exertion or inactivity (both extremes can yield sore muscles) & lots & lots of lavender, with its relaxing, anti–viral, anti–bacterial properties to quiet the whole system. Called "Big Guns" in recent press, Deep Lavender Rub is a powerful preparation, that is gentle enough for a child.
APPLICATIONS & BENEFITS:
Deep Heat Comfort Rub for relieving upper respiratory tightness due to colds or allergies. Apply to chest or neck area, then cover with warm towel to super-charge effects of the essential oils and herbs, to relax tension, and aid in a good night's sleep.
Sinus Relief by opening nasal passages. As essential vapors are released and inhaled, there is an "opening" of the sinuses, helping relieve stuffiness and easing mental tension and headache. The releasing heat of our herbal rub will help increase circulation & blood flow to the face, and this is excellent for optimizing a healthy complexion.
Muscular Massage is greatly enhanced by using Deep Lavender Rub. Not only for the aroma-therapeutic qualities of Ginger, Eucalyptus, Lavender & Rosemary, but also for their ability to penetrate muscle tissue, and relax tension from a range of conditions like flu or illness, apres sport or overwork.
Hand and Foot treatments are all the better when enhanced with Deep Lavender Rub. Whether its a hand and foot massage you give yourself at the end of a long day, or one administered to someone in need of TLC, applying a small amount of Deep Lavender Rub with massage, to soles and palms, will super-charge the healing benefits of the treatment. (Did you know that the soles of the feet and palms are the most vulnerbale areas of the body for taking in herbal constituents?) Wrapping hands or feet in warm towels after application, will further soften skin and maximize the relaxation response.
Farmaesthetics products are 100% natural & contain certified organic ingredients as indicated. Certified hypo-allergenic, non-irritating & dermatologically tested, with a certified with a 2 year shelf life & no animal testing.
Size: 1.5 oz
PRICE: $24.99