Developed specifically as a treatment following laser resurfacing, chemical peels, AHA products, abrasive facial scrubs and intensive therapy for dry, sensitive or irritated skin conditions.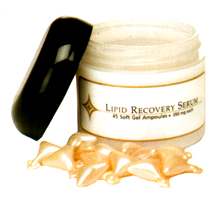 Lipid Recovery Serum (LRS) is a fragrance-free and preservative-free complex of plant derived lipids, a plant derived anti-inflammatory agent, nutritional and moisturizing agents in a clear, nonirritating emollient base. It reduces redness and inflammation, calms, moisturizes, improves tone/elasticity and reinforces skin that has been damaged by natural or environmental causes.

LRS contains human identical, plant derived Sphingolipids. Sphingolipids compose 49% of the lipids in the stratum corneum of human skin, and are thus the major structural lipids in the lipid barrier. An intact lipid barrier is necessary for optimal cell function and for preventing disease-causing agents from penetrating into the dermis. Replacement of damaged or lost sphingolipids is essential to maintaining skin health and reduction of TEWL (Transepidermal Water Loss). LRS contains Vitamin E Linoleate which is a major source of Vitamin E and Linoleic Acid, the main EFA (Essential Fatty Acid) in skin useful for moisturization. Vitamin E Linoleate has excellent antioxidant abilities, helping to "trap" free radicals which can cause epidermal damage and impair cellular integrity.

LRS contains naturally derived Peroxidized Corn Oil, which is a potent antiinflammatory and analgesic agent. In clinical studies, significant diminution of erythema was observed after 48 hours of use. It also was determined to be effective in reducing itching and burning of irritated skin. All these ingredients are contained in a nonirritating, skin tolerant Polymer Matrix which is derived from chemically modified silica, a natural matrix. This matrix provides a barrier to water evaporation from skin but does not interfere with normal skin respiration.
LRS has the unique ability to create a hydrating effect in skin, which can reduce fine lines and lessen the appearance of wrinkles. LRS does this even though it contains no water in the formulation. It increases the skin's intrinsic moisture, not like a typical cream or lotion that contains water and only temporarily hydrates the skin. It repairs the lipid barrier in the skin so that it can hold more water, improving skin cell function and improving skin health.
LRS has been specifically formulated as a post treatment following: Laser Resurfacing, Dermabrasion, Chemical Peel (e.g. Glycolic), Facial Scrubs, Facial Waxing. It may also be used for the treatment of dry, weathered and irritated skin and for treatment of wrinkles and fine lines, particularly around the eye area. Ideal for any sensitive skin condition such as Rosacea.
Sold in a concentrated ampoule form. Each ampoule contains 350 mg of Lipid Recovery Serum, enough for one application to face and neck.
Size: 45 ampoules
PRICE: $51.99