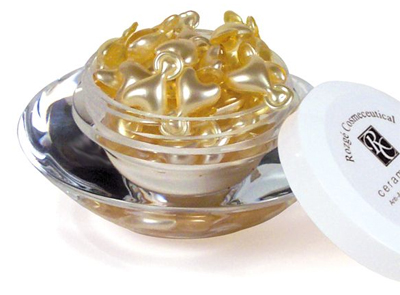 Ceramide, a natural ingredient in human skin, is critical to skinís health and youthful appearance. As we age, skin begins to experience a natural loss of ceramide, making it more vulnerable to the signs of aging. Ceramide-C reduces the appearance of fine lines and wrinkles by helping to restore the skinís ceramide. It instantly re-texturizes for silkier, softer skin that looks smoother and younger. Also contains Vitamin E and A along with powerful natural botanical extracts.
Each concentrated capsule covers the face, neck, upper chest and both hands. Manufactured in the USA in an FDA approved facility. Preservative and fragrance-free. Non-acnegenic, non-oily, and non-comedogenic.
Instructions: Use one capsule daily, morning or night. Apply on cleansed skin, before application of makeup or other moisturizer. Ceramide-C can be used over the face, neck and hands. Twist or cut capsule tip with scissors. Absorbs quickly without oily residue.
Size: 60 capsules
PRICE: $52.99