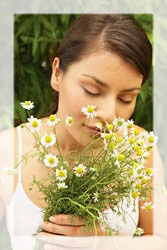 Dr. Temt's Herbal Line is designed for sensitive oily skin types. A powerful blend of natural herbal extracts work together to calm skin irritations while acting as an antiseptic and antibacterial against impurities.
---




HERBAL MASK
This creamy clay mask acts as an astringent for oily, combination and acne skin. It contains natural plant extracts to reduce large pores, calm irritations, remove impurities and stimulate healing. Recommended use once to twice weekly. Apply a thin layer and leave on for approximately 20 minutes. Rinse thoroughly with warm water.
| | | |
| --- | --- | --- |
| SIZE: 8.4 oz | PRICE: $56.99 | |
---
HERBAL CREAM
A light day cream with specially selected herbal extracts that purify and tone oily skin. Ingredients include witch hazel, chamomile, marigold, coltsfoot, hayflower and rosemary which offer astringent and anti-inflammatory benefits. The result is soft, smooth skin with minimized pores. Protects with a mild SPF. May be used twice daily. After cleansing, apply a thin layer to face and neck.
| | | |
| --- | --- | --- |
| SIZE: 2.0 oz | PRICE: $43.00 | |
| SIZE: 8.4 oz | PRICE: $124.99 | |