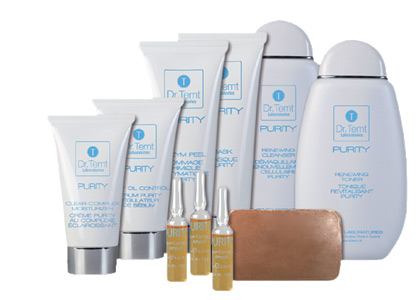 The Purity Line is specially formulated for oily/acne skin. This line cleanses deeply, disinfects and combats even the toughest acne while leaving the skin balanced and soothed. Active ingredients such as squalene, allantoin, sulfur, salicylic acid and camphor work together to help clear acne, reduce redness and prevent future breakouts.
---




PURITY RENEWING CLEANSER
A milk cleanser ideal for reducing the skin's impurities. With a combination of almond oil, tiger grass, hyaluronic acid and diatami, this cleanser gently exfoliates and removes excess residue. The skin will feel fresh and balanced. May be used twice daily. Apply a thin layer to face and neck area. Rinse with warm water.
| | | |
| --- | --- | --- |
| SIZE: 6.8 oz | PRICE: $44.99 | |
| SIZE: 16.9 oz | PRICE: $75.99 | |
---
PURITY SOAP
A bar soap developed to treat stressed skin suffering from breakouts and irritation. Its main ingredient is Ichthammol, a dark shale oil that prevents inflammation and acts as an antimicrobial. May be used on the face and body twice daily or as needed.
| | | |
| --- | --- | --- |
| SIZE: 3.38 oz | PRICE: $14.88 | |